Why is an assessment important?
The Physiotherapy assessment and re-assessments are essential to get your rehabilitation on the correct pathway right from the beginning.
 

It assists in the full understanding of the severity, intensity, and the nature of your problem to assist with informed decision making for the use of proper treatment strategies and appropriate inter-disciplinary referrals.
It provides a baseline of information, so throughout your care plan we can see how your condition or function has improved and monitor these changes for any need of modifications to your care.
It provides information that can assist your therapist to determine if further medical evaluation is necessary by your Physician.
Your assessment involves:
Subjective examination: a series of questions that are crucial to help determine the severity, irritability, and nature of your condition. Good questioning leads to the formation of primary and secondary hypotheses, possible methods of treatment and the likely prognosis of the injury.
Objective examination: a series of actions and tests that both you and your therapist perform together, requiring both observation and hands on activities.These tests along with your subjective history are combined to form your goals and treatment options.
Treatment plan: is defined for you with expectations given regarding your recovery, and treatment needs and options.
Follow-up treatment: each session will include exercise, education, manual therapy and possibly modalities if they are warranted.
Be prepared for your session:
Remove jewelry and belts

Wear loose fitted clothing that will allow you to move freely, and exercise.

Bring in-door running shoes (all out-door shoes are removed in our waiting area)

Bring or wear a tank top if we are treating your neck or upper extremities, and/or shorts if we are treating your lower extremities.

Ensure you have thoroughly completed all your on-line forms prior to your assessment
Your appointments have been reserved especially for you.  We understand that sometimes schedules can change.  Please kindly give us 24 hours notice should you need to reschedule your appointment.  We recommend you reschedule in the same week to be sure that you stick to your treatment plan and don't loose momentum with your recovery.  
Should you not show up for an appointment or give us late notice of cancellation, you will be charged for the full cost of the service scheduled. Thank you for your understanding.
For your convenience, we send you an email or text message, with an appointment reminder 48 hours before your scheduled session. Be sure you consent to this at your first visit to take advantage of this free service.
Fees are dependent on the service and time frame of the appointment scheduled which will vary depending on your individual needs.
Assessments range from
$90 – $130
Treatments range from
$65 – $130
*Fees for Motor vehicle accident (MVA) & Workplace Safety and Insurance Board Claims are set out by these institutions and are based on the approved program that you are entitled to, according to your policy or claim. These claims need pre-approval prior to booking:
Call or email us for more information on how to start your claim:
705-327-0008 or info@mariposaphysio.ca
*See our cancellation policy
We accept cash, debit, Visa/Mastercard & Cheques for payment
We provide a complementary service to assist with you with direct billing to your extended health plan. This is limited to those companies and plans that are set up for this service. It is your responsibility to know your plans policies, requirements, and funding allowance for services. Your signed consent is required. Setting up your account with your insurance providers name, policy & plan numbers and the primary plan members information if applicable, prior to your visit, will make your first appointment more efficient should you choose to use this free service.
Screening


All staff and entrants are screened prior to booking/arrival and on entry to the clinic. We record all entrants to the clinic.

Cleaning and Disinfecting


Stringent practices completed after every entry/session of care at our clinic. All high touch areas cleaned at a higher frequency than recommended by Health Canada. Daily records kept with our procedures.

Hand Washing


All entrants are asked to wash their hands both on entry and exit, and frequently while at the clinic. Several disinfecting stations are also available as well throughout the clinic to use and at the entry.

PPE


Utilized by staff as per Ministry and College guidelines. All entrants must have a mask on to enter the clinic and remain on during your session.

Staff Training


Proper PPE use, disinfecting procedures, hand washing, good hygiene practices and Screening protocol

Physical Distancing


In person Physiotherapy does not allow for distancing between you and your therapist. We do our best to keep you distant from other staff and patients while in our clinic. Much of your care is completed in a private treatment room with your therapist. Should you need our gym facilities, we do limit the number of patients in this area, as well as our waiting area. If you are not comfortable with close contact one-on-one care, you can complete your sessions through telerehabilitation (see below).

Minimizing Contact
– Touchless payments available.
– Book your appointments on-line or by phone and avoid walk-ins.
– Please avoid bringing companions or extra items to the clinic.
– Reduced scheduling to allow for disinfecting between patients and minimized exposure to other people.
– We have protective barriers between you and our administrators during check in and out needs.


– Electronic copies of your receipts, exercises, and forms can be found in your confidential patient portal and or your email.

Telerehabilitation


Telerehabilitation is an electronic virtual Physiotherapy session, similar to facetime or zoom but through a confidential and secure network that allows you to benefit from our services in the comfort of your home. All you require, is a device with audio ability like a cell phone, tablet, laptop or computer. We suggest you set-up in a quiet and private area of your home with enough space to sit, stand, lie down to perform various movements for your assessment or treatment. Book these appointments by calling our office at: 705-327-0008 and we will send you a secure link for your session.
What is Physiotherapy?
The Ontario Physiotherapy Association defines Physiotherapy as a "recognized, evidence-based health profession that plays a key role in the health of individuals and populations…and has been proven to be effective in the assessment, diagnosis, treatment and management of acute and chronic conditions, the prevention of injury and disability, and in promoting health and wellbeing."
Physiotherapists help you to restore, maintain and get the most out of your mobility, through use of education, manual therapy, exercise, fitness and modalities. Physiotherapists empower you to get involved in your own recovery.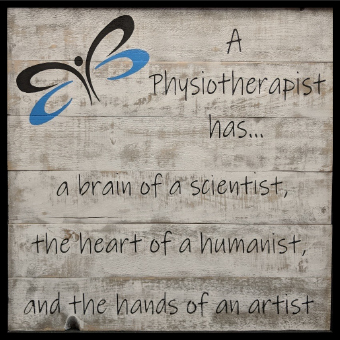 How do I schedule an appointment?
The quickest and easiest option is to book through our easy-to-use patient portal. It can be accessed through this link (https://mariposa.juvonno.com/plogin.php) or by hitting the make appointment tab at the top of this screen. Use your email as your username and make up a confidential password to make a secure account. The other great asset to our portal is that you can even book your appointments when we are closed, and you are in the comfort of your own home. It also gives you access to all your receipts, exercises, documentation, and our schedule. You can even email us or upload documents to us right from the portal.
You can call us directly at 705-327-0008 and speak with one of our administrative assistants.
You can email us at: info@mariposaphysio.ca to request an appointment or ask us questions.
__________
What is best to wear to my Physiotherapy sessions?
Loose fitted clothing is helpful.An option of a tank top for neck and upper body needs, or shorts for lower body needs are helpful be able to work on the areas in need.Bring along a pair of indoor supportive shoes as well.
Please remove all jewellery, belts or items that may get in the way of your treatments.
We do ask you to remove outdoor footwear in our waiting area.
__________
How long are my sessions?
This varies depending on your needs. Assessments are 40 minutes to 1 hour in length. Treatments may be 20 minutes to 1 hour long, and in some instances, up to 1.5 hours long. Ask your therapist during your assessment to clarify your needs moving forward.
__________
Does insurance cover Physiotherapy?
In many instances yes. Your individual insurance plan may have guidelines to follow to qualify for coverage. Although a referral is generally not required to see a Physiotherapist, some companies still require one for you to use your insurance. If you are unsure, it is always best to call them in advance and discuss your policy. They can also tell you the amount they cover for the sessions and if there are any limitations. Many companies will allow for direct billing and for those who do, we provide a free service to assist you in the submission of your claim.
We also accept patients who may be covered under the Worker's Safety & Insurance Board (WSIB) for those injuries sustained on the job. In addition, we assess and treat patients who sustained injuries through a Motor vehicle collision. These claims need pre-approval to begin your care. Call our office and we will be happy to help you navigate the process to get your claim processed and approved. 705-327-0008.
__________
Tell me about the training & qualifications of a Physiotherapist to treat my injuries?
Physiotherapists require an undergraduate degree, prior to acceptance into a Master level professional degree program in Physiotherapy.During this training they undergo anatomical, theoretical and ethics training, along with physical skills development both in class and in mentorship through numerous clinical placements.Post graduation they are required to pass both a written and oral practical National examination to be licensed to practiced and be able to utilize the title Physiotherapist or Physical Therapist (PT).
Physiotherapists are lifelong learners! This is essential to keep up with current research and new skill development, to be sure you receive that best possible care. You can read about each of our therapist's individual post graduate accomplishments in their bios under the Professionals tab at the top of this page.
Our therapists are registered with the College of Physiotherapists of Ontario, who regulates our profession.
Some of our therapists are registered with the College of Physiotherapists of Ontario for the controlled acts of spinal manipulation, acupuncture and internal palpation, which is a requirement to provide these services.
__________
Which Therapist is best for my care?
Each of our therapists are skilled to treat most conditions. There are a few areas that may be unique skills that only some therapists provide. For instance, Acupuncture, Pelvic Health and Lymphedema are a few areas of care that require specific post graduate studies/certification. Look for a therapist with these credentials should you require these services.